In 2022, there were 34,379 rear-end collisions in Connecticut. While most rear-end accidents are caused by the rear driver, there are instances in which the rear driver's fault may not be certain. Accordingly, car accident victims often ask who is at fault in a rear-end collision. If you were the lead driver injured in a rear-end collision, you need an experienced car accident attorney.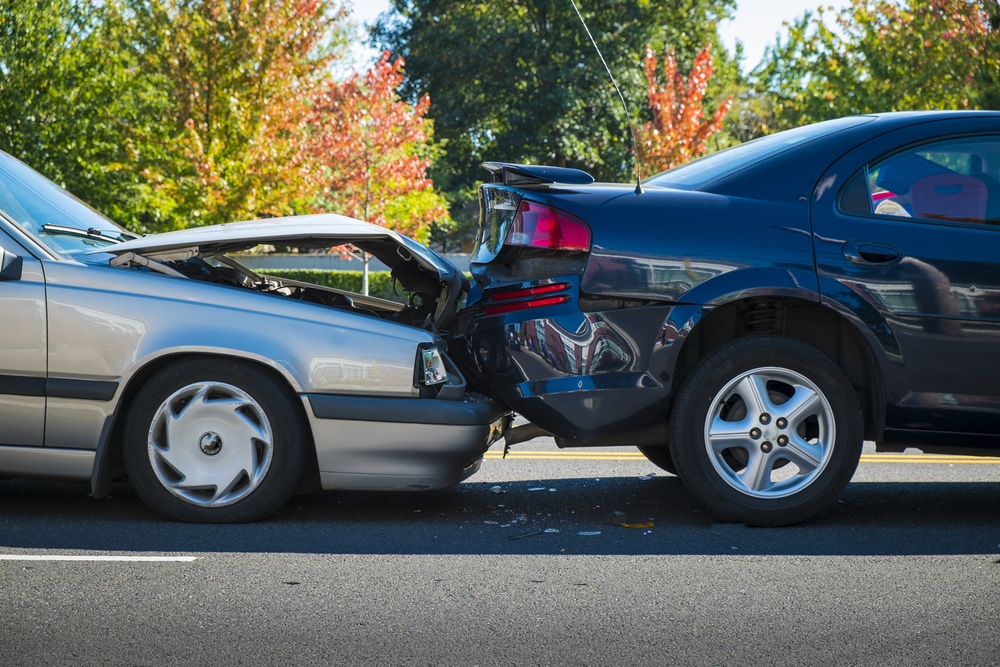 Determining Fault in a Rear-End Car Accident
When two vehicles collide in a rear-end collision, determining who the at-fault driver is can become a complicated process. While the rear driver is often assumed to be at fault, there are situations where the person hit can be partially or fully responsible. Additionally, determining fault in a rear-end collision can become more difficult when the insurance company for the rear driver denies liability based on Connecticut's comparative negligence system.
When the Rear Driver is at Fault
In most cases, the driver who rear-ends the other driver will likely be found to be at fault. Under Connecticut Law, a trailing driver must use reasonable care based on vehicle speed, traffic flow, and weather while traveling behind another vehicle. Accordingly, the rear driver could be negligent in a rear-end accident if they failed to leave adequate space to brake, engaged in distracted driving, or failed to use reasonable care while operating their vehicle.
When the Person Hit is at Fault
There are situations where the front driver may be fully or partially responsible for a rear-end accident. For example, if the driver of the front vehicle pulls into traffic from a disfavored road without enough room or time to safely merge, they may be at fault in a rear-end collision. Additionally, the front driver may be partially at fault in a rear-end accident if they stop suddenly without paying attention to their surroundings.
External Factors Affecting Fault
Sometimes external factors such as mechanical failures can contribute to rear-end collisions. For example, the rear driver may not be at fault if the front driver was driving with broken brake lights. Additionally, in many multi-vehicle accidents, the rear driver's fault is reduced if another vehicle hit their vehicle which then caused them to strike the vehicle ahead of them despite using reasonable care.
Proving Fault in a Rear-End Collision
To win a rear end accident case, a car accident victim must prove the rear driver committed an act of negligence, e.g., drove over the posted speed limit, failed to leave adequate space to brake, etc., which caused the car accident. Under Connecticut law, a car accident victim must prove all the elements of a rear-end automobile accident lawsuit by a preponderance of the evidence, i.e., 51%. A victim has a better chance of meeting this burden by presenting evidence such as property damage photos and testimony by independent witnesses.
How Negligence Affects Fault in Getting Rear-Ended
Connecticut is a modified comparative negligence jurisdiction. Under Connecticut State law, the victim of a rear-end collision can still recover if their level of negligence does not exceed 51%. However, if the victim of a rear-end car accident is determined to be partially at fault, their recovery is reduced, e.g., a finding of 30% of negligence reduces a car accident victim's $10,000 award to $7,000.
What to Do If You Get Rear-Ended
You can take many steps to increase the legal and factual strength of your case if you were the lead driver in a rear-end accident and suffered serious injuries. You should report the collision to the police to ensure a police report is prepared. You should also take photographs of the accident scene to capture the property damage and pertinent details such as the lack of skid marks if the rear driver failed to stop.
Seek Medical Attention
In many car accidents, serious injuries may not be immediately apparent. Even if you feel fine, it is important to seek medical attention after a rear-end collision. Insurance companies often minimize the value of personal injury claims by highlighting delays in medical treatment.
Talk with a Personal Injury Attorney
Speaking with a car accident lawyer can help you understand your legal rights and options. The Carter Mario Law Firm has spent over 30 years fighting for personal injury victims and obtained over One Billion Dollars in financial compensation for our clients. Contact us today for a free consultation.
File an Insurance Claim or Lawsuit
Filing an insurance claim or lawsuit can help you recover damages for injuries, property damage, or other losses resulting from the collision. At Carter Mario Law Firm, our team of lawyers will investigate the facts of your accident and gather all the evidence available to increase the strength of your insurance claim. If our law firm cannot negotiate a favorable settlement, we will litigate your rear-end crash lawsuit in court.
Compensation You Could Receive from a Rear-End Collision Lawsuit
Connecticut law allows you to claim both economic and non-economic damages. Economic damages include your medical expenses, property damage, and lost wages. Non-economic damages include the pain and suffering you experienced due to the car accident and your injuries.
Rear-End Collision FAQs
While rear-end collisions are seemingly simple, they cause major disruptions in the lives of personal injury victims. Worse yet, insurance companies complicate the process to make it more difficult to determine fault. The dedicated staff at the Carter Mario Law Firm is prepared to answer your questions regarding your rear-end automobile accident.
Is Rear-Ending Always My Fault?
The answer is "it depends." While the rear driver is typically at fault in a rear-end collision, there are situations where the person hit may be responsible for the crash. If the driver of your vehicle suddenly entered your lane, they may be partially or totally at fault.
Am I At Fault if I Hit a Car in Front of Me Because They Slammed on Their Brakes?
The facts of all car accident cases are unique. If a driver suddenly stops or slams on their brakes without warning, i.e., brake checking, they may be found partially or fully responsible for the collision. Additionally, if the driver of the lead vehicle was driving recklessly, e.g., suddenly stopping while recklessly weaving through multiple lanes of traffic, they may be fully or partially at fault.
Summary of Fault in Rear-End Collisions
In a rear-end collision, the issue of fault is not always clear-cut. While the rear driver is often at fault, external factors and the actions of the vehicle which was struck can also contribute to the collision. Evidence must be gathered to establish fault, and legal action may be necessary to recover financial compensation.
If you were involved in an automobile accident, reach out to our car accident lawyers in Hartford, Milford, Bridgeport, New Britain, North Haven, or Waterbury. Carter Mario Law Firm can help!