Car accident victims who suffer neck pain often experience severe disruptions in their lives. If you were recently involved in a car accident and suspect you suffered a neck injury, it is important to understand your legal options. A personal injury attorney can help you recover financial compensation for your neck injury and protect your rights.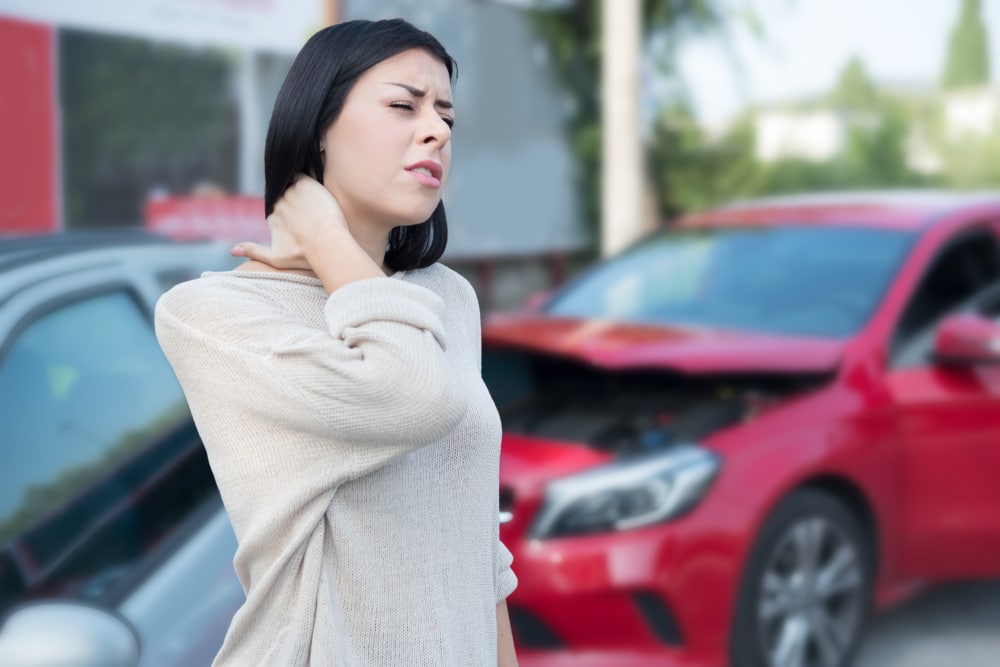 Even Minor Motor Vehicle Collisions Can Injure Your Neck
According to a national study by the National Library of Medicine, there were 869,000 car accidents which resulted in back and neck injuries. Even seemingly simple car accidents can cause accident victims to suffer neck injuries. Representation by an experienced personal injury attorney is essential as insurance companies routinely minimize or deny neck injury claims.
Kinds of Neck Injuries Caused by Car Accidents
Car accidents can cause a range of serious injuries. Depending on the facts of the collision and the speed of the vehicles, neck injuries may range from minor to life-altering. Common neck injuries include:
Abrasions / Lacerations – Car accident victims suffer cuts to their necks due to being struck by debris.
Spinal Fractures – A severe car accident can cause a vertebra to break, resulting in chronic pain, paralysis, or death.
Herniated Discs – A catastrophic collision can cause a bone in the spinal cord, including the neck, to shift, resulting in a pinched nerve.
Soft Tissue Injuries – Many automobile collisions result in muscle strains which in turn cause painful muscle spasms, including those in the neck.
Whiplash Injuries – The force of the accident impact can cause the neck muscles to tear.
Symptoms of a Car Accident Neck Injury
A common symptom of a neck injury is neck pain after a car accident. Victims who suffer serious injuries experience headaches, numbness, dizziness, numbness in extremities, or a loss of range of motion. Severe neck injuries are not always immediately obvious, as the symptoms are similar to simple neck sprains. This is why seeking medical care following a car wreck is essential.
How a Neck Injury Impacts Your Health in the Long-Term
Car accidents which cause minor soft tissue damage, such as neck sprains, often resolve in a short period of time and may require a victim to wear a neck brace for a few days to a few weeks. A severe neck injury can be life-altering. Long-term effects include permanent pain requiring regular doses of pain medication, reduced range of motion, and long-term medical treatment.
What You Should Do About Your Neck Pain Following a Collision
As people do not expect to be involved in car accidents, they often make simple mistakes which reduce the value of their personal injury claims. Insurance companies make matters worse by immediately denying fault to discourage car accident victims. If you are experiencing neck pain following an auto collision, there are several steps you should take which can increase the legal and factual strength of your personal injury claim.
Seek Medical Attention
It is important to seek medical attention as soon as possible after a car accident. This increases the chances of your neck injury being properly diagnosed and treated by a medical professional. If you wait too long, the other driver's insurance company will likely argue your neck injury is not related to the car accident.
Find a Car Accident Lawyer
The personal injury lawyers at Carter Mario Law Firm have spent over 30 years protecting the rights of car accident victims. A car accident lawyer can help you understand your legal options. Additionally, a personal injury lawyer can advise you on the true financial value of your claim and help you collect evidence to build a strong case against the at-fault driver.
File an Insurance Claim or a Personal Injury Lawsuit
You may be entitled to recover damages for your injuries through an insurance claim or personal injury lawsuit. At Carter Mario Law Firm, our personal injury attorneys will gather relevant evidence and your medical records to prepare a strong demand package. If the other driver's insurance company is not interested in a fair settlement, we will file a personal injury lawsuit and represent you in court.
Damages You May Recover from a Car Accident Neck Injury
If you have suffered a neck injury in a car accident, you may be entitled to claim damages. The term "damages" refers to your losses from a car accident. Under Connecticut law, you can claim economic and non-economic damages.
Economic Damages
Economic damages refer to the monetary losses you suffered. Specifically, you can seek compensation for your medical bills and property damage. You can seek compensation for your lost wages if you could not work due to your injuries.
Non-Economic Damages
Unlike economic damages, which are based on monetary losses such as medical expenses, non-economic damages are meant to compensate you for your physical pain and suffering. You can also claim your mental anguish as part of your economic damages. Finally, a non-economic damages claim allows you to seek compensation for any permanent disabilities you are suffering.
Proving a Car Accident Caused Your Neck Injury or Pain
Proving that a car accident caused your neck injury can be challenging. Additionally, your case will likely require testimony by an expert medical witness, such as your treating medical provider. In short, you need objective medical documentation of the injury.
Talk with a Car Accident Attorney for Your Neck Pain
If you are experiencing neck pain following a car accident, it is important to retain an experienced lawyer before filing an insurance claim. The Carter Mario Law Firm has a reputation for success, as we have obtained over one billion dollars in financial compensation for our clients. Contact us today for a free consultation.
Summary of Seeking Legal Counsel for Neck Pain After a Car Accident
You may have suffered a neck injury if you were involved in a seemingly simple car accident. At Carter Mario Law Firm, our personal injury attorneys can help you understand your options and obtain compensation for your injuries. Our law firm can provide guidance and support throughout the legal process, from filing an insurance claim to negotiating a settlement or representing you in court.
If you were involved in an automobile accident, reach out to our car accident lawyers in Hartford, Milford, Bridgeport, New Britain, North Haven, or Waterbury. Carter Mario Law Firm can help!